About us
Energy Queensland is Australia's largest, wholly government-owned electricity company.
We service customers and communities through our distribution businesses Energex and Ergon Energy Network, our regional Queensland retailer Ergon Energy Retail, and our integrated energy solutions provider Yurika.
With more than 8,200 employees, we energise Queensland communities right across the state and, through Yurika's services, increasingly to a growing national footprint.
As we invest in new technologies, strengthen our future capabilities and evolve our workforce, we're excited and committed to supporting the renewable energy transition.
Image provides an illustration of the Energy Queensland brands.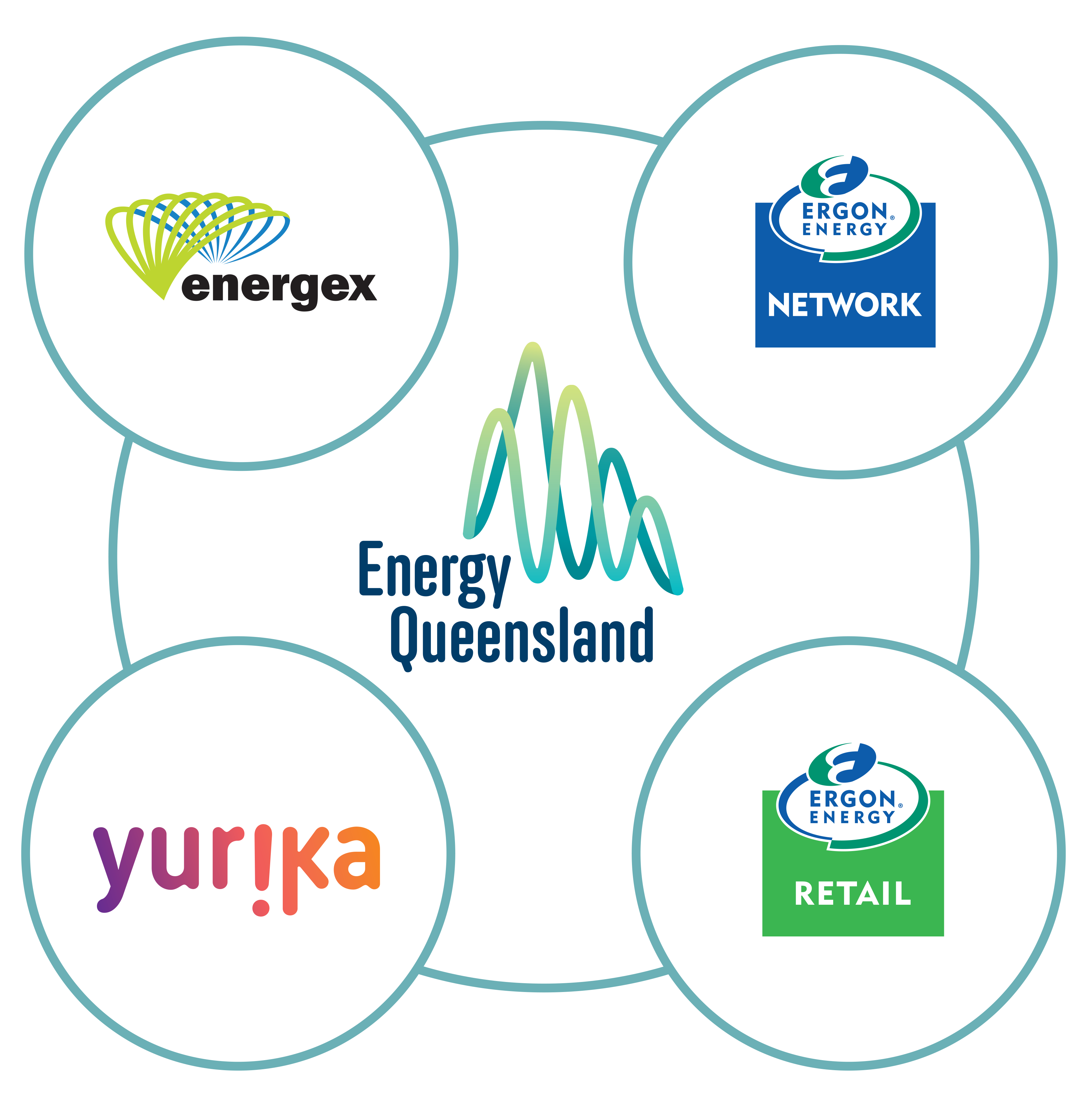 Services to Queenslanders
2.3 million connected customers
766,000 retail customers
Yurika - major project delivery across Australia
500+
Graduates and apprentices
210,000 km
Powerlines (overhead and underground)
36,600 GWh
Electricity distributed (a year)
Reconciliation Action Plan
Our Reconciliation Action Plan 2023-25 (PDF 9.4 mb), represents our ongoing commitment to reconciliation.
Our vision for reconciliation is an Australia with respect, equity and unity between Aboriginal and Torres Strait Islander peoples and other Australians, that accepts and acknowledges our shared history.
At Energy Queensland, this means building strong connections, learning from First Nations peoples and cultures, centring on the aspirations of First Nations communities, and working together to safely deliver secure, affordable and sustainable energy solutions.
The Energy Charter
We are a proud signatory to the Energy Charter, which brings together energy businesses across the nation with the aim of improving customer outcomes.
The customer-focused goals of the Energy Charter align perfectly with those of Energy Queensland – which keep customers' needs at the core of everything we do. You can read the Energy Charter Disclosure Report 2022-23 (PDF 1.7 mb) for our progress against the Energy Charter and its principles.
The signatory organisations to the Energy Charter are committed to working together to build a customer-centric culture and to create real improvements in price and service delivery – that are in line with customer expectations.
The Energy Charter upholds collective accountability within its member organisations, so customers can have confidence about their energy choices in the knowledge that the energy sector is working for their best interest.
We welcome feedback to help us improve our reporting. Comments can be directed to customeradvocacy@energyq.com.au.
Find out more about the Charter at www.theenergycharter.com.au.
The five Energy Charter principles
We will put customers at the centre of our business and the energy system.
We will improve energy affordability for customers.
We will provide energy safely, sustainably and reliably.
We will improve the customer experience.
We will support customers facing vulnerable circumstances.