Welcome to Energy Queensland
Energy Queensland is the group of electricity distribution, retail and energy services businesses 100% owned by the state of Queensland.
As a Government Owned Corporation, we deliver electricity across Queensland through our 'poles and wires' businesses Energex and Ergon Energy Network.
Our retailer, Ergon Energy Retail sells this electricity to customers throughout regional Queensland.
These essential service activities are also supported by a range of innovative products and services delivered through our Yurika brand.
Energy Queensland, formed in June 2016, energises Queensland communities from the Tweed River to Torres Strait and from Brisbane across to Birdsville.
Image provides an illustration of the Energy Queensland brands.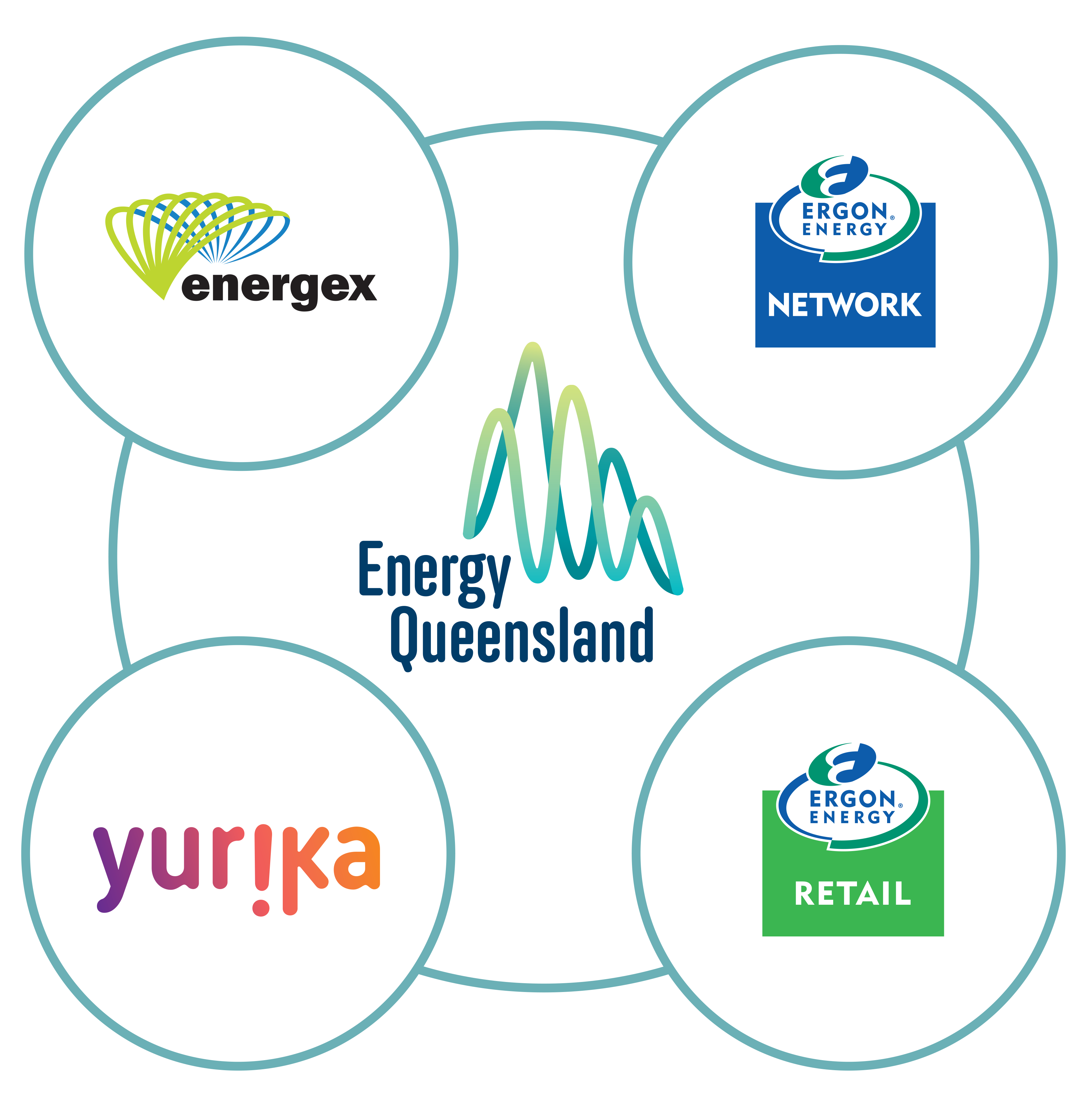 Services to Queenslanders
Connection and supply of electricity to 2.3 million customers across Queensland.
Sale of electricity to 746,000 retail customers in regional Queensland.
Provision of valued, innovative products and services to customers.,
33
Stand-alone power stations
35,000GWh
Electricity delivered
Our vision, purpose and values
We have a unifying Vision, Purpose and set of Values that guide everything we do at Energy Queensland. Our Vision helps us to understand where we're heading, our Purpose is what we do (our core role), and our Values are how we do it.
Vision: Energy Queensland's vision is to energise Queensland communities.
Purpose: Everything we do is driven by our purpose to safely deliver secure, affordable and sustainable energy solutions with our communities and customers.
Image shows our strategic objectives which are led by a community and customer focus.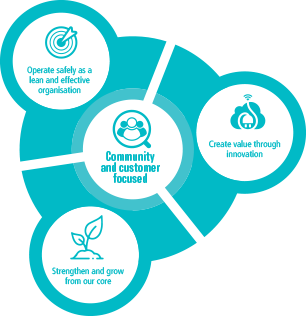 Our values: Together we are SKILLED
Safe - We are committed to keeping our people, community and customers safe
Knowledgeable - We openly share our knowledge
Innovative - We strive to make our business better
Leading - We lead and follow each other to success
Listening - We respect and hear each other
Engaged - We work as a team to be the best we can be
Diverse - We are diverse which makes us stronger
We are committed to delivering for our communities, and the customers within them, by operating safely as an efficient and effective organisation, creating value through innovation and strengthening and growing from our core business.
The Energy Charter
We are a proud signatory to the Energy Charter, which brings together energy businesses across the nation with the aim of improving customer outcomes.
The customer-focused goals of the Energy Charter align perfectly with those of Energy Queensland – which keep customers' needs at the core of everything we do. You can read the 2020-21 Energy Charter Report (PDF 315.3 kb) for our progress against the Energy Charter and its principles.
The signatory organisations to the Energy Charter are committed to working together to build a customer-centric culture and to create real improvements in price and service delivery – that are in line with customer expectations
The Energy Charter upholds collective accountability within its member organisations, so customers can have confidence about their energy choices in the knowledge that the energy sector is working for their best interest.
We welcome feedback to help us improve our reporting. Comments can be directed to energycharter@energyq.com.au.
Find out more about the Charter at www.theenergycharter.com.au.
The five Energy Charter principles
We will put customers at the centre of our business and the energy system.
We will improve energy affordability for customers.
We will provide energy safely, sustainably and reliably.
We will improve the customer experience.
We will support customers facing vulnerable circumstances.