What is Energy Queensland?
In December 2015, the Queensland Government announced its intention to merge government-owned electricity companies, Ergon Energy and Energex.
On 1 July 2016, the parent company Energy Queensland was created. The combined business not only includes the two electricity distributors, but also Ergon Retail, the businesses' ICT provider SPARQ Solutions, and a new energy services business.
The establishment of Energy Queensland has created the largest electricity distribution business in Australia, with more than $24 billion in assets. The driving force behind the merger is to make the electricity sector more efficient and to create an energy business ready for the future.
What is our focus?
Electricity prices have risen over the past decade, contributing to rising energy costs. The Government is focused on reducing the cost of living for all Queenslanders and is taking action to minimise the impact of network costs on customers. Improving the efficiency of electricity networks and streamlining operations will provide a better customer experience at a more affordable price.
The creation of Energy Queensland delivers a customer-focused business, providing savings and giving customers greater choice and control over their energy use.
What does the future look like?
Energy Queensland includes a new energy services business which will provide customers with greater choice and control over their energy needs and access to the next wave of innovative technologies and renewables. The energy services business is key to ensuring that Energy Queensland is able to meet and adapt to changes and developments in the rapidly evolving energy market. With headquarters in Townsville, the energy services business will build on existing partnerships and establish new partner relationships to deliver products and services to customers.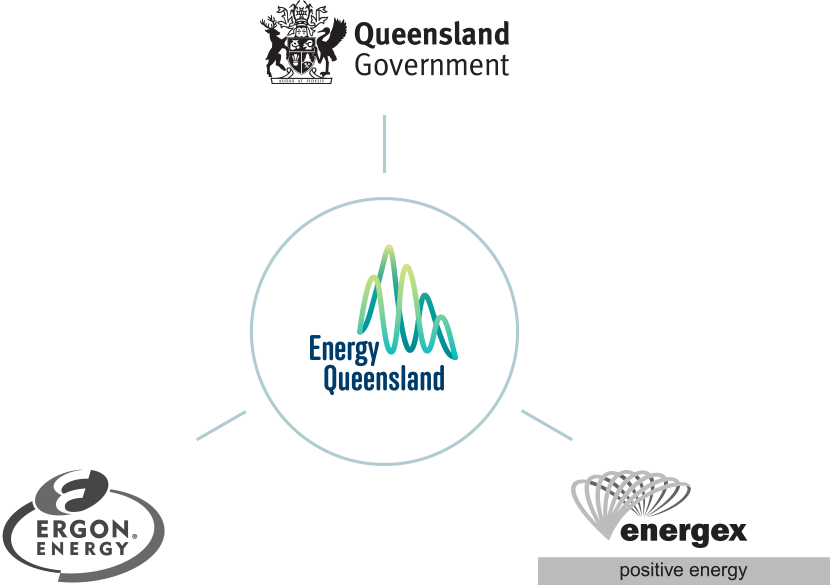 Our Board
Phil Garling
Chairman
B. Build (Construction Management), Adv DipAICD, FAIB, FAICD, FIEAust
Phil brings more than 37 years' experience in the Australian energy, construction, infrastructure and investment industries to this role, gained through an extensive board and executive career.
Since 2013, Phil has been a Non-Executive Director of the Board of Network NSW, which was formed when Ausgrid, Endeavour Energy and Essential Energy merged in July 2012. He also has seven years' experience as inaugural Chairman and Non-Executive Director of the DUET Group.
Phil's understanding of the energy sector and his broad corporate experience are a valuable asset in guiding the future direction of Energy Queensland.
Kerryn Newton
Director
LLM, MBA, Grad Dip (Applied Finance and investment) FAICD, FAIM, FGIA
Kerryn has served on the Energex Limited Board since October 2008. She was admitted as a solicitor of the Supreme Court of Queensland in 1991 and has more than 25 years' experience in legal, management and commercial roles in the private and public sectors.
Currently, Kerryn is Managing Director of a national governance consulting firm and advises a wide range of organisations in the areas of governance, strategy and management. Her roles have included extensive experience as a lawyer and advisor for the Queensland Parliament and its parliamentary committees.
Over the past decade, Kerryn has chaired the boards of numerous not-for-profit organisations in the child care, aged care and housing sectors.
Hugh Gleeson
Director
BEng(Civil), FAICD, FIE(Aust)
Hugh has over 30 years of experience in energy and utilities, and recently retired after 12 years as CEO of the electricity and gas distribution businesses United Energy and Multinet Gas.
He is a professional engineer, and has significant experience in the areas of energy regulation and policy.
Hugh has served on the boards of the Energy Supply Association of Australia, and the Energy Network Association. He has also been involved in the water sector, and is currently a director of Melbourne Water.
Helen Stanton
Director
BEng (Minerals Processing), GAICD
Helen brings strategy, risk and governance expertise to the board. Her career spans operational, leadership and commissioning roles in the mining industry and more recently as a consultant supporting organisations to formulate strategies for bottom line, sustainable improvements.
Helen is a Non Executive Director with Northern Territory Power and Water Corporation, including Chair of Audit and Risk and Chair of Water Services, Director of Mater Health Services North Queensland and Northern Australia Primary Health Limited.
She was previously a Non Executive Director of Ergon Energy, where she was chair of the Operational Risk Committee and a member of the Regulatory Committee.
Mark Algie
Director
BA (Politics), MBA, CAHRI
Mark is a highly experienced human resources executive with over 15 years' experience across numerous sectors including heavy engineering, construction, utilities, infrastructure and media.
He is currently the Managing Director of Human Outsource which specialises in the provision of human resources and industrial relations advice.
Mark was the Human Resources Director with APN, Australian Regional Media reporting to the Chief Executive Officer of Australian Regional Media ('ARM'). He also spent four years with Tenix Australia in a number of HR appointments including as Manager Human Resources Infrastructure, and two years with Ergon Energy as a Senior Employee Relations Consultant.
He began his career as an Army Officer with the Department of Defence.
Teresa Dyson
Director
LLB (Hons), BA, MTax, MAppFin, GAICD.
Teresa is a lawyer with over 20 years' experience advising the private sector and governments on complex infrastructure, mergers and acquisitions, financing transactions, social infrastructure and the not-for-profit sector. Teresa is currently a Consultant at McCullough Robertson Lawyers, specialising in advising on taxation issues and also on governance and operations in the not-for-profit sector. She is formerly a partner of Ashurst Lawyers and Deloitte Australia.
Teresa was named Woman Lawyer of the Year in 2011 by the Women Lawyers Association of Queensland. She is the Deputy Chair of the Gold Coast Hospital & Health Services Board and Chair of the Law Council of Australia, Business Law Section.
Teresa is also a member of the Boards of UN Women National Committee Australia and Opera Queensland Limited and a member of the Audit and Risk Committee of Lifeline Australia.
Kathy Hirschfeld
Director
BE (Chem) HonFIEAust FTSE FIChemE FAICD
Kathy has experience on ASX, NYSE, private company and government boards. Kathy brings corporate and commercial experience as a CEO of a complex manufacturing business, as well as expertise in operational risk management, safety, corporate governance and a passion for leading people.
Kathy is a chemical engineer with 20 years of leadership experience with BP in oil refining, logistics and exploration, located in Australia, the UK and Turkey. In 2015 she was named as one of Australia's AFR/Westpac 100 Women of Influence, and in 2014 she was the ninth woman recognised by Engineers Australia as an Honorary Fellow.
Kathy is a board member of UN Women Australia National Committee, Toxfree Solutions Lts and the University of Queensland. She was an officer in the Australian Army Reserve for over 20 years.
Our Executive
David Smales
Chief Executive Officer
MBA, BEng (Hons)
David is a senior industry leader with over 30 years' experience in technical, operational, asset management, corporate and senior executive roles, with a track record of value delivery in large blue chip energy companies. Prior to joining Energy Queensland, he was General Manager Generation at Origin Energy, responsible for all aspects of a portfolio of energy assets.
David has significant international experience, working as the Head of Biomass Co-firing for Drax Power and Portfolio Projects Manager at Centrica Power Generation in the United Kingdom. He has extensive experience operating at a strategic level in leading and executing business development programs, including integration and transformational change, within the energy industry.
David is committed to bringing the former Energex and Ergon Energy businesses together to create a bright new future for the state's energy system. He is based in Townsville at the Energy Queensland head office.
Peter Scott
Chief Financial Officer
Dip Bus, B Bus, MBA, MPA FCPA
Peter has extensive executive experience as a CFO and has held other senior executive roles in local Government and Government-owned corporations. Peter has most recently worked as CFO at Energex. Prior to this he was CFO of Seqwater. He has also held positions including Project Director at SEQ Bulk Water Company Ltd and CEO of Wide Bay Water Corporation as well as Deputy CEO and CFO of Unitywater. Peter has also worked in a variety of banking and government/semi-government roles in regional Queensland from Maryborough to Townsville.
Craig Chambers
Executive General Manager, Strategy, Portfolio and Innovation
BCom, MEng, DipSustDev, MAICD
Craig has responsibility for Energy Queensland's Strategy, Portfolio and Innovation. In this role, he is accountable to the CEO and Board for business strategy, innovation, risk and compliance, regulation and pricing, as well as customer and stakeholder engagement across the portfolio.
Craig has over 20 years' experience in the electricity and gas industry in Australia, Asia and the USA. Before joining Energy Queensland, Craig held a number of senior management roles in the energy sector. Most recently he was responsible for AECOM's Power business line in Australia which included providing business strategy, group leadership and support to its key transmission & distribution, power generation, industrial and government energy sector clients. This involved providing companies with advice on strategy, policy, regulatory compliance, due diligence, project development, technical design and construction delivery.
His diverse background spans pioneering innovation in the distributed energy industry in Australia, founding and managing a vertically integrated start-up utility, advising Governments and industry on navigating change, as well as major asset sales and delivering prominent utility scale thermal, hybrid, power network, storage, gas and renewable projects from concept to execution.
Peter Price
Executive General Manager, Asset Safety & Performance
Peter began his career in the electricity industry in 1981 after attaining an Honours Bachelor Degree in Engineering and a Masters in Engineering Science at the University of Queensland. He was an Executive General Manager in Energex from March 2006 overseeing Programming, Procurement and Services and later Network Performance. Most recently he was EGM Asset Management. His senior management experience has seen him involved in all aspects of the energy industry, including capital planning and program delivery, asset management, procurement, regulatory issues, commercial and non-regulated revenue.
Paul Jordon
Acting Chief Operating Officer Distribution
Paul brings more than 30 years' experience in the electricity distribution and retail fields, both in Australia and internationally. Most recently, he led the customer service elements of Ergon Energy's network business, responsible for the safe and efficient operation and maintenance of the distribution network, supply to isolated communities, and the commercial delivery of modular infrastructure and generation solutions.
Paul has particular expertise in disaster preparedness and response, and is passionate about ensuring the safety of employees and the community.
Barbara-Anne Bensted
Chief Digital Officer
MBA, Grad Dip (Information Systems), BCom
Barbara-Anne has responsibility for Energy Queensland's Information & Technology business unit, which previously operated as SPARQ Solutions.
She has a strong track record of enabling organisations across a wide range of industries and countries to achieve world class, high quality, and sustainable business transformations.
Barbara-Anne was previously an Executive Consultant at Queensland Treasury where she was a driving force behind the development of digital transformation strategies for business improvement. She also spent a number of years as a Program Director and Advisor at Origin Energy, establishing and managing key strategic programs such as the Carbon program and the Privacy and Credit Reform program.
Belinda Watton
Executive General Manager, People, Culture and Safety
BCom MApp Law Grad Cert App Fin GAICD
Belinda is an experienced Human Resources Executive with a track record of transforming cultures and delivering high performance customer outcomes in complex public, private and not for profit organisations. Belinda has demonstrated experience in strategic vision and leadership of safety, communications, people and culture functions. Most recently she was Acting Executive General Manager People and Culture at Ergon Energy.
As a dynamic and engaging leader, her expertise includes strategy development, delivering commercial customer focused outcomes, leading change in complex and dynamic operations, leadership and talent development, industrial relations, stakeholder and remuneration management. Belinda also has expertise in corporate communications.
Cheryl Hopkins
Executive General Manager, Retail
GradCert (Management)
Cheryl has more than 30 years' experience in the energy industry and has worked in executive positions within retail, upstream gas and corporate functions. She has a strong track record in leading areas including retail, sales, compliance and risk, business integrity and promoting innovation. Cheryl is currently completing her Master's Degree in Business Administration at the Macquarie Graduate School of Management.
She is now leading the Energy Queensland Retail business, which comprises around 350 employees across Queensland and services more than 720,000 customers throughout regional Queensland. She is responsible for the Retail sales turnover which is around $2 billion annually.
Prior to joining Energy Queensland, Cheryl held various senior roles within Origin Energy for 19 years, most recently as Head of Compliance.
Charles Rattray
Executive General Manager, Energy Services
B.Comm (Finance) / BA (History)
Charles is responsible for leading the Energy Services team at Energy Queensland. In this role, he and his team will be accountable for the delivery of energy services to customers, businesses and networks. Charles has significant experience with distributed energy assets such as: solar, wind, batteries and smart meters, which will assist us in providing new services to market.
Charles joins Energy Queensland from Beon Energy Services (formerly Powercor) in Victoria where he was a key driver of launching new businesses and service offerings to customers.
He has a diverse background and proven record in delivering significant projects and business outcomes. Charles started his career with the Australian Defence Force before moving into banking with a focus on energy, infrastructure and mining. His roles have taken him to opportunities in Australia, the U.K., Switzerland and the USA. He has also worked in a number of emerging markets such as Mongolia and enjoyed the challenge of working in remote areas.
His energising leadership style, combined with his extensive experience in establishing businesses utilising new and disruptive technologies, provides strong capability and growth prospects for Energy Queensland. Charles is based in Townsville at the Energy Queensland head office.