The changing face of the electricity industry
The electricity industry is rapidly changing across the globe. The story is no different in Queensland, where the challenges are complex, the technology is always evolving, and customers' expectations are shifting.
Ergon Energy and Energex have been responding to these changes by investing in renewable energy and reducing operating costs to help stabilise electricity prices.
The creation of Energy Queensland will ensure that the state's electricity businesses keep pace with a fast changing industry. We will be well-positioned to respond to the needs of the energy market of the future. We're bringing together some of the brightest minds and most knowledgeable people in the electricity sector. Working together, we will find the answers to the challenges we face.
Where are we going?
In bringing together the state's two electricity distribution businesses, the Queensland Government aims to deliver better outcomes for all Queenslanders.
Our vision is to energise Queensland communities.
Our purpose is to safely deliver secure, affordable and sustainable energy solutions with our communities and customers.
Connection with the community
Energy Queensland is creating a bright new future – for our people and for our communities. Our businesses will be more efficient and help support the economic success of the state. Reducing duplication will release funds for better services for all Queenslanders – better roads, better hospitals, better schools.
Our aim is to achieve operating efficiencies while still delivering high levels of safety, reliability and product excellence for the people of Queensland.
A key focus is continuing to support the growth of regional Queensland, remaining an active employer and developing skills in local communities. Spread out to the far reaches of the state, Energy Queensland has a strong regional presence with our head office located in Townsville. Frontline staff of both Ergon Energy and Energex will continue to deliver network services in their own regions. Local resources will be retained to ensure our businesses continue to be leaders in emergency response.
Energy Queensland takes social responsibility seriously through partnerships with the communities we serve.
Our Queensland coverage
Energy Queensland powers communities from Tweed Heads up to the Torres Strait, and from Brisbane across to Birdsville.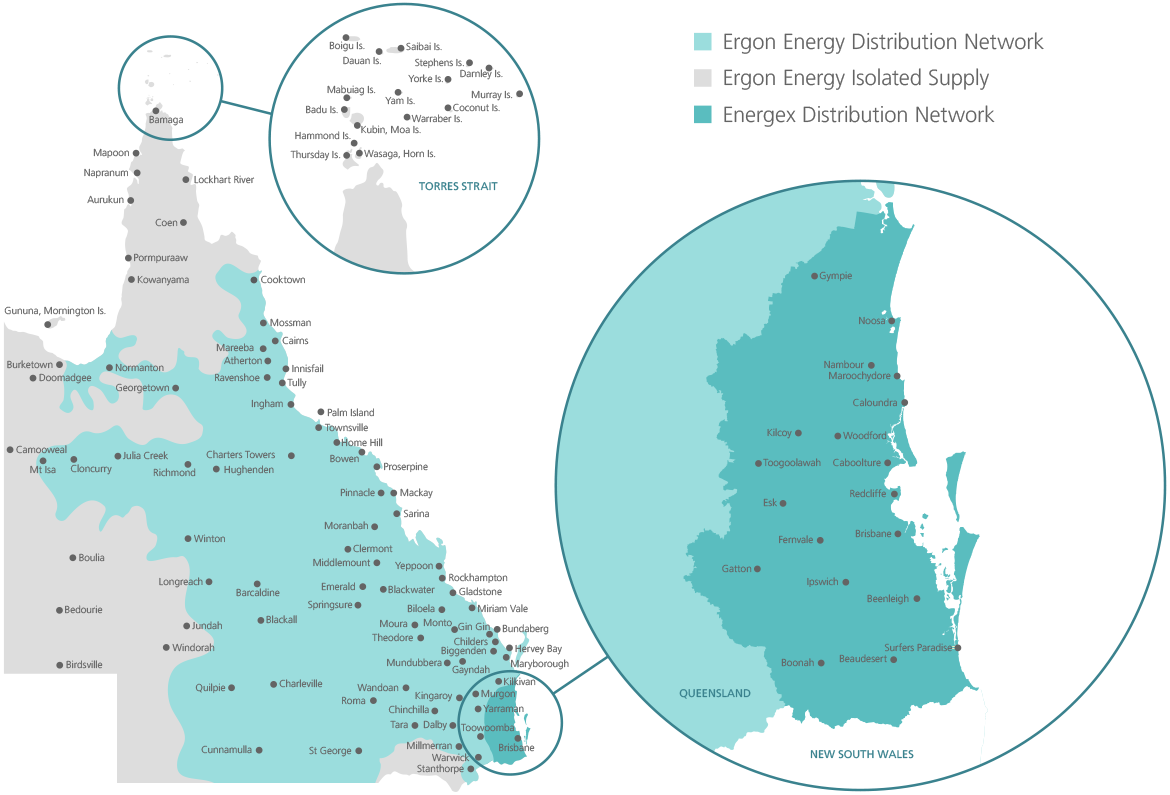 Commitment to safety
Electricity is an important part of our everyday lives, but it's easy to forget that electricity can also be dangerous.
As the owner of the electricity network across the entire state, we need to ensure our people, our customers and our communities stay safe. Safety is our number one priority.
Our subsidiary companies take their safety responsibility seriously. Their work practices and programs minimise the risks involved in operating the electricity network. Community safety, and raising awareness about how to live safely with electricity – at home, at work and in public spaces - is equally important.
Energy Queensland is committed to making safety a vital part of our organisation.