Welcome to Energy Queensland
Energy Queensland came together as a Group in June 2016 to build on our proud history of powering Queensland and create a community-focused energy business ready for the future.
The Group, including Energex, Ergon Energy Network, Ergon Energy Retail and a number of other businesses, powers communities from Tweed Heads up to the Torres Strait and from Brisbane across to Birdsville.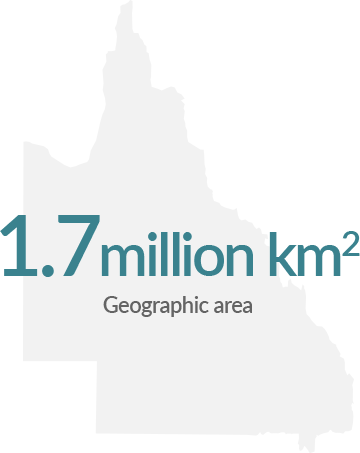 Our Purpose
To safely deliver secure, affordable and sustainable energy solutions with our communities and customers. We strive to give customers the electricity services and products they value. This means providing them with more choice and control over their energy use and helping them access the next wave of renewable and innovative energy options.
We have a role to play in making energy affordable for our communities and customers. We are an energy business that seeks to build strong connections with and have a positive presence in communities from the NSW border to the Torres Strait.
An energy business for the future. An energy business for you.

Services to Queenslanders
Connection and supply of electricity to 2 million customers across Queensland.
Sale of electricity to 700,000 retail customers in regional Queensland.
Provision of valued, innovative products and services to customers.
33
Stand-alone power stations
Our Business
Network
Our role as electricity distribution businesses – under the banners of Energex and Ergon Energy Network – is to safely and cost-effectively transport electricity along our 'poles and wires' across Queensland, while enabling distributed energy resources.
Our distribution networks, which are part of the National Electricity Market (NEM), are regulated by the Australian Energy Regulator (AER).The regulator determines the revenue we are allowed to collect from customers for their use of the networks. These charges make up around half of the retail price of electricity.
Retail
Our retailer (Ergon Energy Queensland Pty Ltd) buys electricity from the generators, through the market and direct negotiations, and on-sells it to our customers throughout regional Queensland.
Ergon Energy Retail sell electricity at the Queensland Government's notified prices, which are set by the Queensland Competition Authority (QCA).This enables regional Queenslanders to access the same regulated electricity tariffs (with the support of the government's Community Service Obligation subsidy), wherever they are located, even though the cost of supply may be different.