Welcome to Energy Queensland
Introducing Australia's largest electricity distribution business.
Energy Queensland is the result of merging Ergon Energy and Energex, creating a single energy company that powers communities from Tweed Heads up to the Torres Strait and from Brisbane across to Birdsville.
Bringing these organisations together is not just about efficiency, but about creating a bright new future for the state's energy system.
Energy Queensland provides an opportunity to deliver better outcomes for customers, employees and all Queenslanders. We will effectively manage Queensland's electricity network and prepare it for the future needs of the energy market.
Energy Queensland is finding ways to minimise the impact of electricity network costs on customers, and release funds for better services for all Queenslanders. We will also support growth and development of regional Queensland, helping to keep people in local communities.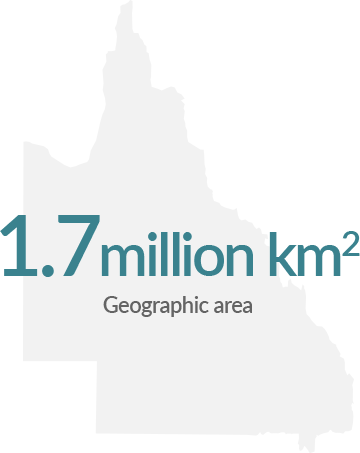 Our Purpose
To safely deliver secure, affordable and sustainable energy solutions with our communities and customers. We strive to give customers the electricity services and products they value. This means providing them with more choice and control over their energy use and helping them access the next wave of renewable and innovative energy options.
We have a role to play in making energy affordable for our communities and customers. We are an energy business that seeks to build strong connections with and have a positive presence in communities from the NSW border to the Torres Strait.
An energy business for the future. An energy business for you.
Services to Queenslanders
Connection and supply of electricity to 2.1 million customers across Queensland.
Sale of electricity to 740,000 retail customers in regional Queensland.
Provision of new, innovative products and services to customers.
33
Isolated Power Stations
4.8 million
Population served
Our Companies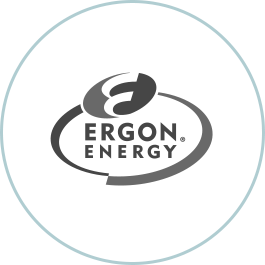 Ergon Energy manages an electricity distribution network across regional Queensland, a vast operating area that covers around 97% of the state. Ergon owns and operates 33 stand-alone power stations that provide electricity supply to isolated communities not connected to the main electricity grid. Its Retail business sells electricity to residential and business customers. Ergon is actively involved in alternative energy generation solutions and is one of Australia's largest purchasers of renewable energy. Ergon Energy continues to innovate and think forward in order to meet the unique challenges faced in servicing regional Queensland.
Energex manages an electricity distribution network and delivers world-class energy products and services to one of Australia's fastest growing communities – the South East Queensland region. This responsibility brings with it the challenge of maintaining sufficient capacity to supply every home and business on the days when electricity demand is at its peak, no matter where they are connected in the network. Energex has been providing electricity to Queenslanders for more than 100 years. Today, Energex provides distribution services to both residential and business customers.