Our approach to governance
Energy Queensland Limited is a Government Owned Corporation (GOC), established under the Government Owned Corporations Act 1993 (GOC Act). The Corporations Act 2001 applies to Energy Queensland Limited except so far as the GOC Act otherwise provides.
As a GOC, we are accountable to our ultimate owners and customers, the people of Queensland.
Our main governance objective is to achieve our business outcomes aligned with our ethical, social and environmental responsibilities. It is crucial to maintain solid governance foundations through a robust corporate governance framework. This framework is advocated by the Board and senior management, who encourage our people to carry out their duties in an ethical and responsible manner, protecting the community interest and our company's integrity.
The following information provides a overview of Energy Queensland's Corporate Governance Framework:
Our corporate reporting
The Group's overall performance for our first year of operations as a united entity is reported in the Energy Queensland Annual Report 2017. It showcases the contribution of Energex Limited, Ergon Energy Corporation Limited and its subsidiary Ergon Energy Queensland Pty Ltd.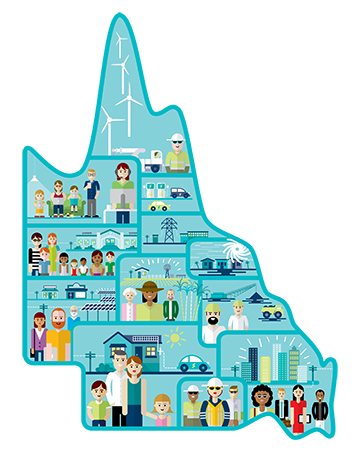 Past reports are also available:
Energy Queensland Group Annual Report 2016 (PDF 7.0 mb)
Ergon Energy Annual Stakeholder Reports
Our charters, policies and procedures
Charters
Policies
Procedures